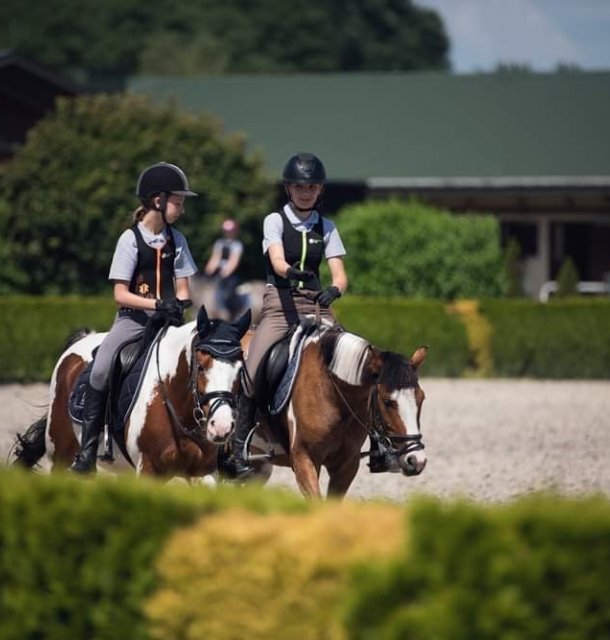 Equestrian center
The Sielanka Farm offers you pleasure horse riding for beginners and advanced horsemen alike. You can take advantage of lessons at various difficulty levels (both individual and in groups of up to three people) - starting with lunge lessons up to horse riding in the countryside. Our horses are friendly, calm, well-prepared and our instructors couldn't be more professional.
Britzska or sleigh ride
There's no need to be a capital horseman to appreciate the beauty of horses and enjoy riding in a real britzska, carriage or sleigh. Lovers, families and groups of friends will surely find these beautiful riparian woodlands and forest firebreaks surrounding our Sielanka a great deal to their liking. For is it not a perfect scenery for a romantic trip, whatever the season?
Depending on your wish, the ride may be crowned with a campfire and roasting sausages, a picnic somewhere amidst the forest or on one of the white beaches at the Pilica riverbank.
HORSE RIDING PRICE LIST
| | |
| --- | --- |
| Riding a hand walked pony 15 min | 50 PLN |
| Lunge lesson 30 min | 85 PLN |
| Pleasure riding - individual horse riding or in groups of max. 4 people (45 min)eith an instructor either in the riding arena or on the show jumping course. | 120 PLN |
| Indywidual ride- guaranteed individual ride the watchful eye of the instructor (45 minutes) either at the riding hall or on the show jumping course. | 200 PLN |
| Horse rifing in the open air- a horseback trip with an instructor: either individally or in a group of maximally 4 people (60 minutes)- the skills of every horseman need to e verified first. | 200 PLN |
| britzska ride 30 min- maximally 5 people | 90 PLN |
| britzska ride 60 min- maximally 5 people | 180 PLN |
| sleigh rode( small sleigh) 60 min- maximally 4 people, provided the snow layer is thick enough | 180 PLN |
Additional questions and registration for horse riding
phone: 502 738 529 available from 9:00 a.m. to 6:00 p.m.
email: jazdy.konne@sielanka.pl
Pension for horses
Our stables offer accommodation for over 50 horses, and additional stables are tent for the duration of the equestrian competition. Our specialist Equisport association is responsible for the details of the horse boarding house and the organization of the competition.